Dwaine and I got married on February 1, 2002. If I had been thinking at that time, we would have waited one more day. Then our date would have been 02/02/02. Oh well.
My gift for Christmas 2001 was my ring. Dwaine told me to get a ring that I would love forever. I went to MANY jewelry stores. Looked at so many rings, my head was swimming! And I found the perfect ring for me! White gold with a bit of yellow gold around the main diamond. It has an odd shape on the backside to help keep it from spinning while I type, an important thing for me as I'm on the computer most of the day, every day.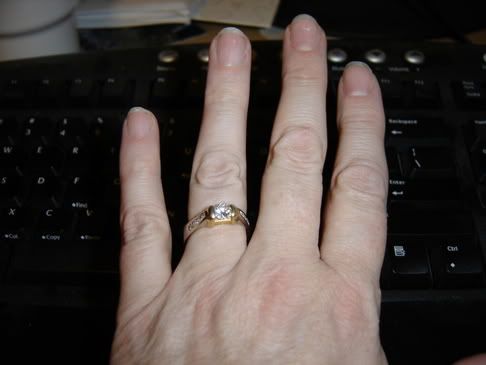 Isn't it pretty???
Once I had picked it out, they took it off to get resized and have the diamond set. When we picked it up again, Dwaine told me that I couldn't put it on until he put it on my finger. I told him that I would be putting it on to make sure it was the right size and then he could have the ring until he felt the time was right to give it to me. He even had it gift wrapped so I couldn't sneak any more peeks!
As we were getting in the car, I remembered that I wanted to purchase a Christmas gift at that mall, so we got back out to go in. I mentioned to Dwaine that he shouldn't leave my ring just sitting on the seat because it could get taken! So he leaned back in the car, got the ring box, then tossed it to me and told me I might as well wear the thing! Such a romantic moment! LOL
The main diamond gets loose in the setting. When that happens, I haul it into a jeweler and have it tightened back up. The first time this happened, it was easy. I just went back to the store where I purchased the ring and they fixed it right up and sent me on my way. When it happened again, I went back to my store and it had gone out of business! Alas! Alack! Argh!
The Shane Company became my plan B. And they were terrific! They even serviced my ring for no cost as Dwaine has bought me a few things there over the years. Life was good.
The last few weeks I had become aware that my diamond was becoming loose again. And I really don't want to lose a diamond! So I got myself over to the Shane Company at lunch today to have the ring repaired. After consulting with several people, the lady helping me informed me that it would cost $450 to repair. She also made the suggestion that I purchase a new ring for about double that cost. Then any maintenance that would need to be done on the new ring would be covered.
So I ring shopped. Again. We found a ring that was about the same style as my ring. And they would take my old diamond and set it in the new ring. And I could trade in my old ring for the gold. So we set about doing all the paperwork to make that happen. This was turning into a very long lunch! We put the ring on layaway to give us time to come up with the money for this new, unplanned expense.
After all that, Dwaine and I ran to a drive through for lunch and drove back to work. On the way back, I started tearing up. My finger felt naked without that ring. And I realized how much I really, really liked my original ring. And the stories behind it. So I called the sales lady when I got to my office and told her to stop everything. We would rather do the repairs then purchase a new ring. She couldn't take an order over the phone, but she did stop anything from being done and after work we shall head back to the store to change my mind.
So, this will probably cost me a lot more money over the long haul. And I think I'll pay it, happily.